Orbit 62120 Garden Enforcer Motion Activated Sprinkler
Product Name:
62120 Yard Enforcer Motion Activated Sprinkler
Brand:
Orbit
Rating: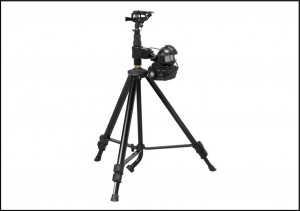 Get This Motion Sensor Sprinkler!
Orbit Garden Enforcer Review
The Garden Enforcer is essentially the same type of sprinkler as the Yard Enforcer. They are made by the same company, and the motion activation/sprinkler unit is exactly the same. The only difference is how the sprinkler is mounted. In the Yard Enforcer, the typical stake model is used, where sprinkler is mounted on a stake, and you push the stake into the ground wherever you want it.
With the Garden Enforcer, there is a tripod stand which holds up the sprinkler head and motion detector. This creates some advantages and disadvantages. The product picture above is the contracted and the picture here is extended.
An obvious advantage would be that you can get a lot more height with the tripod. This can be good to cover more ground, but also to protect plants so you don't spray them directly with water. I'm not sure whether this version would be better or worse for birds.
The tripod will also be better for hard ground where pushing a stake into the ground isn't easy. You can also keep the unit more stable and it's easier to move from place to place. Soft ground and the force of jarring sprays can cause other models to lean after some time.
A main disadvantage is going to be price, since the Garden Enforcer costs more than the Yard Enforcer. There is also no "out" port to connect several sprinklers together. You might also want to consider that having a large structure in your yard, especially if it's the front yard, can be an eyesore. Smaller models can be disguised by plants and relatively unnoticeable.
Pros
same design as my #1 recommendation
moves easily from place to place
rock solid construction
more options for spraying distance and height
can be tailored to specific types of animals
day/night sensor
Cons
cannot connect multiple units
costs more than the Yard Enforcer
might look ugly in your yard (but what's worse – one of these or deer eating your garden?)
See What Everyone Else Is Saying About This Product!