Bell & Howell Solar Powered Spray Away Motion Activated Sprinkler & Animal Repeller
Product Name:
Solar Powered Spray Away Motion Activated Sprinkler & Animal Repeller
Brand:
Bell & Howell
Rating: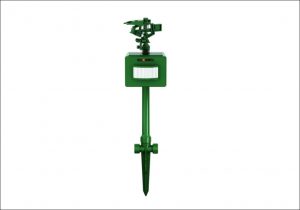 Get This Motion Sensor Sprinkler!
Bell & Howell Spray Away Review
One of the selling points of this model is that it is solar powered. With this type of sprinkler, you don't have to change the batteries. Instead, these are charged over time from the sun. At the same time, this model also gets its water from the hose, so in theory, there isn't any maintenance that you need to do over time. That's an appealing outcome, especially as motion-detecting sprinklers often burn through batteries fairly quickly.
Yet, despite the solar powered advantage, this model isn't a very popular one. In fact, there are only 6 reviews for it on Amazon and only a single person rated it above 3 stars. Many of the complaints about the model focus on the fact that it simply did not work and that the product itself is fairly flimsy.
Now, the lack of functionality appears to come from a manufacturing defect that some reviewers experienced. If that defect has been corrected, then this may no longer be a problem. However, even if that is the case, the sprinkler still appears to be fairly flimsy and low quality. So, even if it works when you buy it, there is a good chance that it will stop working at some point in the future.
Not only are there issues with the product itself but the item also isn't particularly compelling in terms of its price. A price tag of around $50 is fairly common for many sprinkler models out there but a number of those options are better quality and have more options than this one here.
The only significant advantage that this sprinkler has is that it is fairly adjustable. In particular, you can change the sensitivity, spray intervals, height and angle of the sprinkler. Nevertheless, there are other models that offer the ability to make similar adjustments and these tend to be better quality overall.
Pros
ability to make adjustments
not too expensive
solar powered
Cons
fairly basic and flimsy
low ratings in reviews
risk of getting a defective product
See What Everyone Else Is Saying About This Product!