Havahart 5266 Spray Away Motion Activated Sprinkler Animal Repellent 2.0
Product Name:
5266 Spray Away Motion Activated Sprinkler Animal Repellent 2.0
Brand:
Havahart
Rating: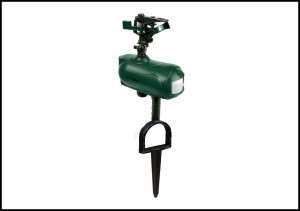 Havahart Spray Away 2.0 Review
As my official #2 recommendation, the Havahart Spray Away 2.0 is a solid motion sensor sprinkler that will appeal to a lot of buyers due to it also being one of the cheapest models available. In fact, the only cheaper model that you can buy online is the PestBye Jet Spray which has a lower range of spray, only 19 total reviews on Amazon, and many complaints about leaking, poor construction and issues with the sensor.
So, if you are not familiar with how everything works, you just need to connect a garden hose to the sprinkler stake/tube. The front of the sprinkler has a motion sensor which can detect when something moves in front of it. In this particular model you can actually turn the sensor up or down depending on what type of animal you are trying to repel.
Because this model is connected directly to a hose, you get unlimited sprays for the life of the batteries (4x AA). It covers 1900 square feet, but in my experience, some bolder animals will not be deterred by a couple sprinkles of water! For a large area, you may need more than one unit.
Some complaints about the Havahart Spray Away 2.0 is that it leaks, doesn't work well in morning/evening light, and there are issues with the extension tube. There are just as many positive as negative reviews. If you are looking for a budget option, this sprinkler is going to be your best choice. However, if you are willing to spend an extra $20, then the Orbit Yard Enforcer is what you should get (my #1 recommendation).